VIDA! SCIENCE CENTER
FOR THE WHOLE FAMILY
180 PLAYFUL EXHIBITS
= 180 UNIQUE EXPERIENCES
PROGRAMME
FOR THE WHOLE DAY
What is VIDA!?
Near the Brno trade fair complex, playful explorers of all ages will find more than one hundred and eighty interactive exhibits over an area of nearly 6200 square meters that will give them a better understanding of the world around us.
This unique exhibition is divided into five thematic sections: the Planet, Civilization, Man and the Microworld. The Science Centre for Children is an independent section for visitors from 2 to 6 years old.
All exhibits are captioned in Czech, English and German.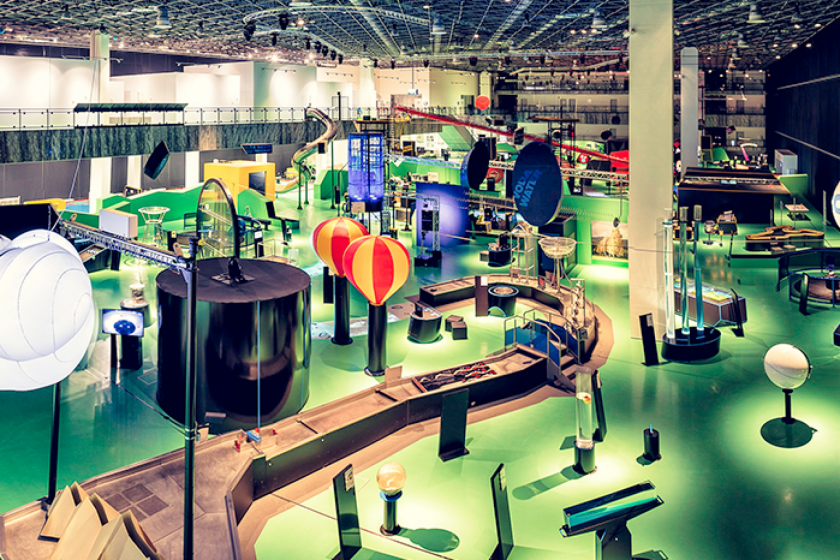 Opening hours
| | |
| --- | --- |
| Monday | 9:00–14:00 |
| Tuesday | 9:00–18:00 |
| Wednesday | 9:00–18:00 |
| Thursday | 9:00–18:00 |
| Friday | 9:00–18:00 |
| Saturday | 10:00–18:00 |
| Sunday | 10:00–18:00 |
Thursday 26. 11. 2020 / Open /
Friday 27. 11. 2020 / Open /
Saturday 28. 11. 2020 / Open /
Sunday 29. 11. 2020 / Open /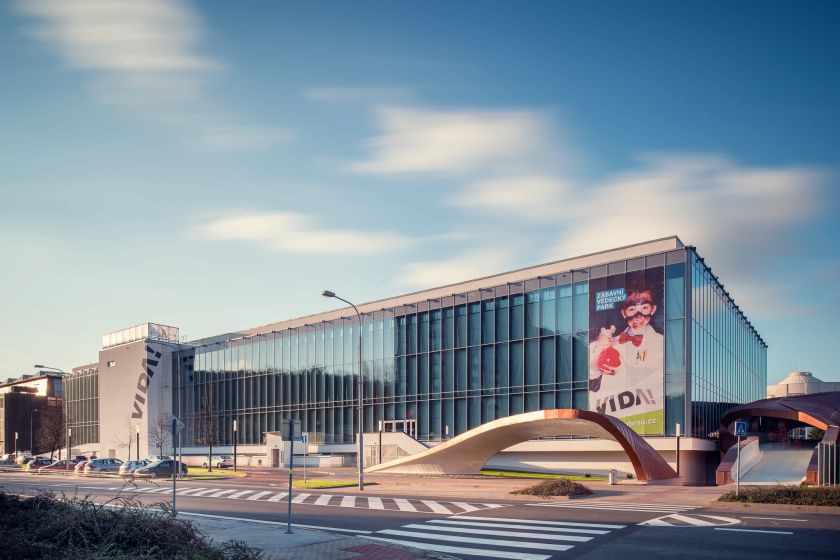 Where to find us?
Křížkovského 554/12, 603 00 Brno
We are situated in the former D pavilion in the Brno Exhibition Center, the entrance is from Křížkovského St (opposite the Voroněž Hotel) and you can't miss it (look for the large metal trunk).
Ticket price list
Type of ticket
Price

Regular admission



230 CZK / person

Discounted admission


Children aged 3–15, students aged 15–26, ISIC/ITIC, seniors 65+, ZTP, ZTP/P (persons with disabilities)
130 CZK / person

Family admission "A"


2 adults + 2-3 children up to 15 years or students
570 CZK / family

Family admission "B"


1 adult + 2-3 children up to 15 years or students
430 CZK / family

School group "A"


exhibition + science show
90 CZK / person

School group "B"


exhibition + science show + one programme of your own choice
130 CZK / person

Organized group of children


schools, clubs, scouts, etc.
90 CZK / person

Organized group of 10 and more people of any age



150 CZK / person

Children under 3 years old, persons accompanying ZTP/P card holders, teachers accompanying school groups



free admission /
Afternoon ticket (Tue–Fri 16:00–18:00)

90 CZK / person
We all loved it. There were loads of interactive things to do and it didn't cost too much, good fun for the whole family

Hannah Ch.
Its just an amazing centre with extremely well designed, interactive science exhibitions covering just about all the disciplines. If you have kids bring them! If you dont have kids, go and be a kid! Just brilliant.

Wayne W.
It's really funny place and kids love it. We all learn new things and everything is to touch and experiment with!

Susana R.
We loved everything about this place. A must too visit when you are in Brno with your family.

Kristian H.
We had a great time. The biggest problem was we had only 3 hours to explore as we had to catch a plane.

Michal S.
Very educative for kids and for adults as well. I recommend to families and also for couples. We spend there about 3 hours.

Terezia S.
Perfect place for kids! I was impressed with this center. A lot of attractions for kids. Also parents can enjoy it.

Jozef G.
Showing science in funny way. A lot of experiments which you can try by your own.

Thomas M.
WHAT CAN YOU EXPERIENCE WITH US?